Are you an organisation or individual in the healthcare sector?
Against a background of staff shortages in the healthcare sector post-Covid 19 and a need to upskill, the Autonomous Province of Bolzano and ProMIS (Programma Mattone Internazionale Salute, an Italian institutionalized network whose aim is to foster the internationalisation process of regional health systems by supporting access to the European funds through training and capacity building activities and best practice sharing facilitation) are organising an event entitled "Intersectoral cooperation to create partnerships of 'skills' in the healthcare sector".
The event is an opportunity for exchanging information, training, and discussions, with a specific focus on the skills needed to transform the healthcare system. In particular, the event will shine a light on how healthcare models can be more innovative and adopt digital technologies to improve the organisation and delivery of services.
The event will present priorities and initiatives related to the European Year of SkillsEN•••, with a focus on the Pact for Skills, Skills Partnerships in healthcare ecosystems, challenges, and potential solutions related to healthcare personnel (such as skills gaps). In addition, a series of good practices, European projects, and synergies that have been activated to respond to these needs will be presented.
Speakers include Manuela Geleng, Director of Jobs and Skills from the European Commission's DG Employment, Social Affairs and Inclusion, as well as speeches from key stakeholders in the healthcare sector.
The event will take place on the 27th of September, from 09:00 – 16:00 CET.
The full agenda and speakers can be found below.
Take a look at the full event agenda here:
Agenda: PRoMIS 'Intersectoral Cooperation to Create Partnerships of Skills in the Healthcare Sector
Download
European Commission

Wednesday 27 September 2023, 09:00 - 16:00 (CEST)
Event type

Other
Practical information
When

Wednesday 27 September 2023, 09:00 - 16:00 (CEST)

Languages

Italian, English

Website
Description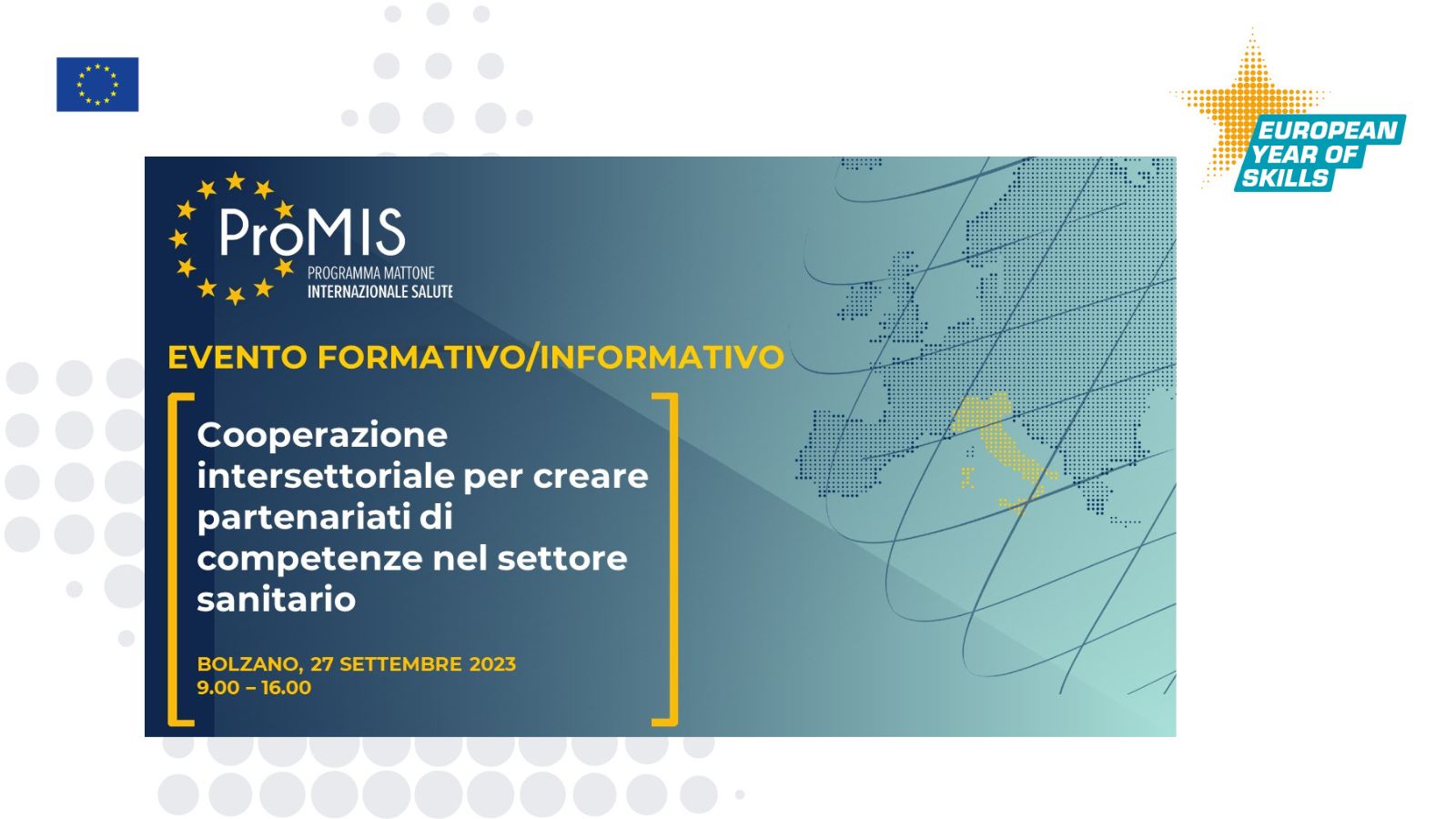 Event type

Other

Event category

Skills and qualifications
Event type

Conference

Event category

Skills and qualifications